Heritage Academy's mission statement:
We are dedicated to youth, their growth and development, and believe in building sound character through strong families, strong communities, and a strong nation.
While teaching the academic disciplines, Heritage Academy is dedicated to instilling into the minds and hearts of our youth knowledge of and respect for the ideals and values of the great men and women of history, including those who founded the American nation.
As they gain an appreciation of these people of accomplishment, they will be ready to provide the selfless service to their fellow citizens and to their country which will be required in the coming years to assist in restoring America's greatness.
Heritage Academy exists to this end.
Important Dates to Remember
9/15 2022 NHS Induction Ceremony 7:00 pm – 8:30 pm Auditorium Mesa 85205

9/20 2022 PTO 6:00 pm – 7:00 pm Room 1 OR  JOIN WITH GOOGLE MEET

Topics of discussion: driving and parking

9/20 2022 Choir Concert  6:30 pm – 8:00 pm First United Methodist Church of Mesa

9/21 2022 US Army Recruiter 11:15 am – 12:15 pm SSG Benjamin Mitchum, on campus during lunch.

9/22 2022 US Army Recruiter 11:15 am – 12:15 pm SSG Benjamin Mitchum, on campus during lunch.

9/27 2022 Orchestra Concert 6:00 pm – 7:30 pm First United Methodist Church of Mesa, 15 E 1st Ave 85210

9/27 2022 Band Concert 7:30 pm – 9:00 pm Heritage Academy Auditorium
A NOTE FROM Mrs. Udall:
Hello Heritage Families,
This Saturday, September 17, commemorates the signing of the U.S. Constitution in 1787. Our scholars have celebrated this event through lunch activities this week. At Heritage, we acknowledge and appreciate the liberties afforded us through this important document.
As a child of an immigrant, I feel blessed to live in the United States of America. My mother was born in Germany in 1945 during World War II. Her father died in a Russian prison camp when she was only 3 years old. She left her homeland and came to America as a 19-year-old. A few years ago, my mom and I stood on the deck of a ship as it sailed through New York Harbor. She shared with me the fear and excitement she felt in 1962 when she first spotted the Statue of Liberty. I honor my mother's courage, and the courage of many of you who have sacrificed much for freedom and opportunity.
Let us all strive to honor and uphold the Constitution of the United States.
Proud to be an American,
Heidi Udall, Principal (right)
Eve Seaman, Vice Principal (left)
CONSTITUTION WEEK:
Heritage Mesa's PTO is the best! We appreciate the many fun activities you prepared for our scholars this week.
Monday – Constitution Karaoke and a Sign the Constitution photo booth
Tuesday – Three Legged "Carry the Torch" races for brownies
Wednesday – Recite the preamble for a doughnut
Thursday – Getting to Know your Constitution Bingo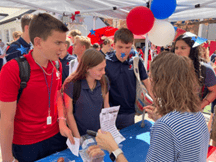 PTO MEETING SEPT 20 6:00 
Please join us next Tuesday at our monthly PTO meeting in Room 1 or join Google Meeting here. Our topic of discussion will be: driving and parking.
PARKING & DRIVING NEWS:
Thank you for the way you safely pick up and drop off your scholars each day. Drive line has improved as we have implemented the carpool lane for those who need extra time. As a reminder, the right lane is for carpooling, the left lane is for quick drop off, and the far left lane is to pull through.
We would like to update you on what is happening in our city. Parking is becoming more of an issue as downtown Mesa grows.  The city of Mesa has asked us to not use the alleyway north of Heritage for pick up and drop off. We do not want to block access to the parking lot of our neighbors.
Remind your scholars to park in the Heritage Parking Lot. If they need a parking pass, they can register for one HERE and pick it up at the front desk. The City of Mesa plans to begin ticketing and towing cars for those parked in the 1 hour and 3 hour parking spots all day.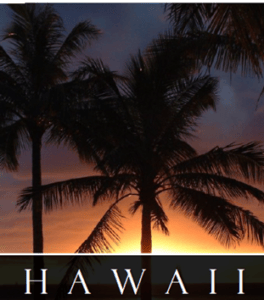 Heritage Performing Arts Hawaii Tour!  Mar 12, 2023 – Mar 17, 2023 
This tour is designed to provide our 9-12th grade scholars with some amazing performance-related experiences as well as experiencing the Hawaiian culture at the Polynesian Culture center.  Other sites include: Pearl Harbor memorial, Waimea Falls and the Circle Island tour.
$500 per person September 15, 2022
$500 per person October 15, 2022
$500 per person November 30, 2022
$750 per person January 15, 2023
Balance February 15, 2023
We encourage students to take advantage of Arizona ECA donation opportunities to help pay for tours.
Includes: Airfare, transportation, hotel rooms, breakfast & dinner, and all entrance fees.
Fine Arts Retreat  Jan. 11 -12, 2023
Advanced scholars from all Heritage Academy campuses enrolled in arts classes and programs may attend the Fine Arts Retreat in January.
Invited scholars will spend three nights and four days (Wed.-Sat.) at Pine Summit Camp located in Prescott, AZ. Scholars will spend two full days in intensive study and rehearsal in preparation for a live performance on Saturday.
Cost: $285 (includes transportation, meals, intensive workshops, extracurricular activities, and lodging at the camp.)
AZ Tax Credit can be used to pay for this!
Sign up today!
$140 due September 23, 2022**
$145 due December 1, 2022**
*Subject to based on enrollment
**No money will be refunded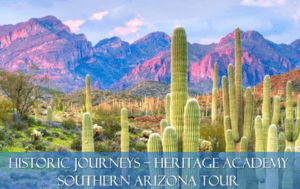 Junior High Southern Arizona Tour April 26 & 27, 2022
Exploring: Tombstone, Queen Mine, Bisbee(including ghost tour), Pima Air & Space Museum, and the Sonoran Desert Museum
Includes: transportation, hotel for 1 night, 2 breakfasts, 2 lunches, and 2 dinners, and admissions to venues
 Payment schedule: $370/person
$123.33 due Nov 1, 2022
$123.33 due Feb 1, 2023
Balance of Tour fee due March 1st, 2023
All payments must be via MySchoolBucks. Do NOT pay invoice directly with ECA funds.
Refund Policy (either tour company or student cancels) Full refund before Dec. 15, 2022. Refund minus $100 between Dec. 16th & Mar. 23rd No refund after March 24, 2023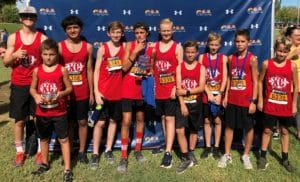 ALL THE WORLD'S A STAGE!
Our hardworking and talented stage craft crew need some tools to help build the awesome sets used in our school productions.
WISH LIST:
paint brushes & rollers
measuring tapes
squares & speed squares
chalk lines
drill bits
saw blades
screwdrivers
hammers
Any hand or power tools that are no longer being used or just any donated ones would be greatly appreciated.
Class of 2023 Caps & Gowns Order Now!
Jostens' has created graduation packages for your upcoming celebration!
Questions: Perry Spindler perry.spindler@jostens.com  or  Matthew Hatten matt.hatten@jostens.com
Please contact Jostens' directly with any questions. They will have all the answers and will  ensure your order is exactly what you (and your family) want.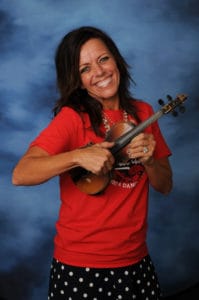 Mrs. Sandra Alston Learn more
Hi! I am Mrs. Sandra Alston and I LOVE our youth! The fall of 2020 will begin my 29th year of teaching.  My family is incredibly supportive and champions every ounce of energy spent in efforts to lift, serve, and bless others. In 1992, I received my Bachelor of Music Education with emphasis in String Pedagogy from Arizona State University.  My master's degree (completed at Northern Arizona University) is in Early Childhood Education, with an emphasis in Curriculum and Assessment.  It is with great enthusiasm that I embrace the art of teaching both Orchestra and Class Piano here at Heritage Academy. My goal is to increase every scholar's love for music and help ensure they reach for the best that is within themselves as we grow both cognitively and aesthetically together. Many former students have gone on to make music a part of their professional life and EVERY student I've ever worked with has added to my world of happiness, refinement, and musical satisfaction.  Music indeed offers us the opportunity to become the best version of ourselves we could possibly be, if we so choose to let it.
Ms. Lavona Babbitt Learn More 
I have a Bachelor of Science degree from Arizona State University and a Master in Educational Leadership from Northern Arizona University.  I have taught Chemistry for the last nine years and have been involved with Heritage Academy from the beginning.  I have eight kids that have all attended Heritage and I am super excited to be working at a school that I have a great passion for.  I love to garden, sew and go to the beach.
Ms. David Bear
I have had the opportunity to work and teach at Heritage Academy for five years. I enjoy working with our scholars exploring technology and learning with them. We struggle together to understand new applications for computation and digital communications. I earned a BS in History at BYU, also completing core classes for teaching Computer Science. After graduation, I taught professional development classes for the ASU Computer Institute, ran my own consulting business, and worked for 23 years as a full-time staff member at ASU in the College of Public Programs.  During that time I also completed a master's degree in public administration. Since joining the Heritage Staff I have become convinced that we have the best teaching staff and the best student population ever. This is a great place to learn and grow.

YEARBOOK PRICING!
Missed out last year? Buy the 2021/22 Yearbook HERE limited supplies $30 each!
Want one this year? Buy the 2022/23 Yearbook HERE on sale for $45!
SENIORS: Interested in a senior ad?  Full page: $100; Half page: $50; Quarter page: $25 BUY YOUR SPACE HERE
Also available: BUY INDEX LETTERS HERE  and BUY BUSINESS AD HERE
Questions: Mrs. Melchin kmelchin@heritageacademyaz.com
Do you shop at Amazon? 
A percentage of every purchase could be going toward our school if you check out during your transaction at Smile.Amazon.com  instead of the normal amazon site. Do good while shopping and check out with Smile.Amazon.com every time you shop!
COLLEGE CORNER 
Seniors – don't forget to schedule your senior 1-on-1 meeting with Mr. Brown. 
You can scan the QR code outside Mr. Brown's office or click here.

FAFSA INFORMATION!
12th grade is the time to apply for admission to college and to apply for federal student aid by filling out the Free Application for Federal Student Aid (FAFSA®) form. Opens Oct. 1.  Check out goingmerry.com for a more user-friendly application, plus, there are thousands of scholarship opportunities.  Just complete your profile.
Complete the FAFSA form even if you believe your child won't qualify for any free federal aid. Many colleges will require FAFSA if you are getting any aid directly from the school. In addition, your family circumstances may change due to divorce, death or medical issues and you can appeal to the school due to the change in circumstance.