Alumni News
Let's Connect! Please fill out the contact form to the right to opt in to alumni communication. Make sure to rsvp and mark your calendars for these exciting upcoming events. Here is the December newsletter from our Alumni Association:
Hello Alumni Family,
We were touched with the outpour of love for Judy Naegle and Sandi Reid with their passing. We are heartbroken to lose them and are deeply grateful for the incredible impact they made for Heritage Academy's success.
Watch Sandi Reid's memorial here: https://youtu.be/Ye0a6mXmM7A
Our Alumni Soiree is almost here are we are so excited! Saturday, February 5th, 2022 at 5pm at the Clement Residence: 3355 E Grove Ave, Mesa, AZ 85204
Grab your tickets at https://heritageacademyalumnini.rsvpify.com
The last day to buy tickets is January 28th in order to have a final count for the caterer.
Spouses are parents of alumni are also welcomed to attend!
At the Alumni Soiree we will be honoring four teachers with the Heritage Academy Alumni Association Award for Excellence and Dedication in Education. These four teachers are Gary Helmbold, Spencer Bowers, Judy Naegle, and Sandi Reid. We are putting together a book for each of these teachers to recognize all the positive impact they have made through dedicating their life to teaching. We would be honored to have your thoughts and stories included with this. https://forms.gle/FQJK4a4fzUuTP9F59
We are gathering a list of alumni (and spouses of alumni) businesses. We would love to include yours with this list. Follow this link to share information with us: https://forms.gle/SGjVc8K5TjgobLyx5
Stay connected with us on social media:
https://www.facebook.com/HeritageAcademyAlumni
https://www.instagram.com/heritageacademyalumni/
Thank you Alumni! Can't wait to see you at our Soiree!
Springtime Family Picnic: Saturday, April 9th from 11:30 pm to 1:00 pm at Heritage's Mesa Campus. Bring the whole family down to Heritage's beautiful campus to enjoy an afternoon of fun games and food! We are so excited to have a chance to honor the incredible community of Heritage Academy and the people who go above and beyond who make it amazing! Can't wait to see you there!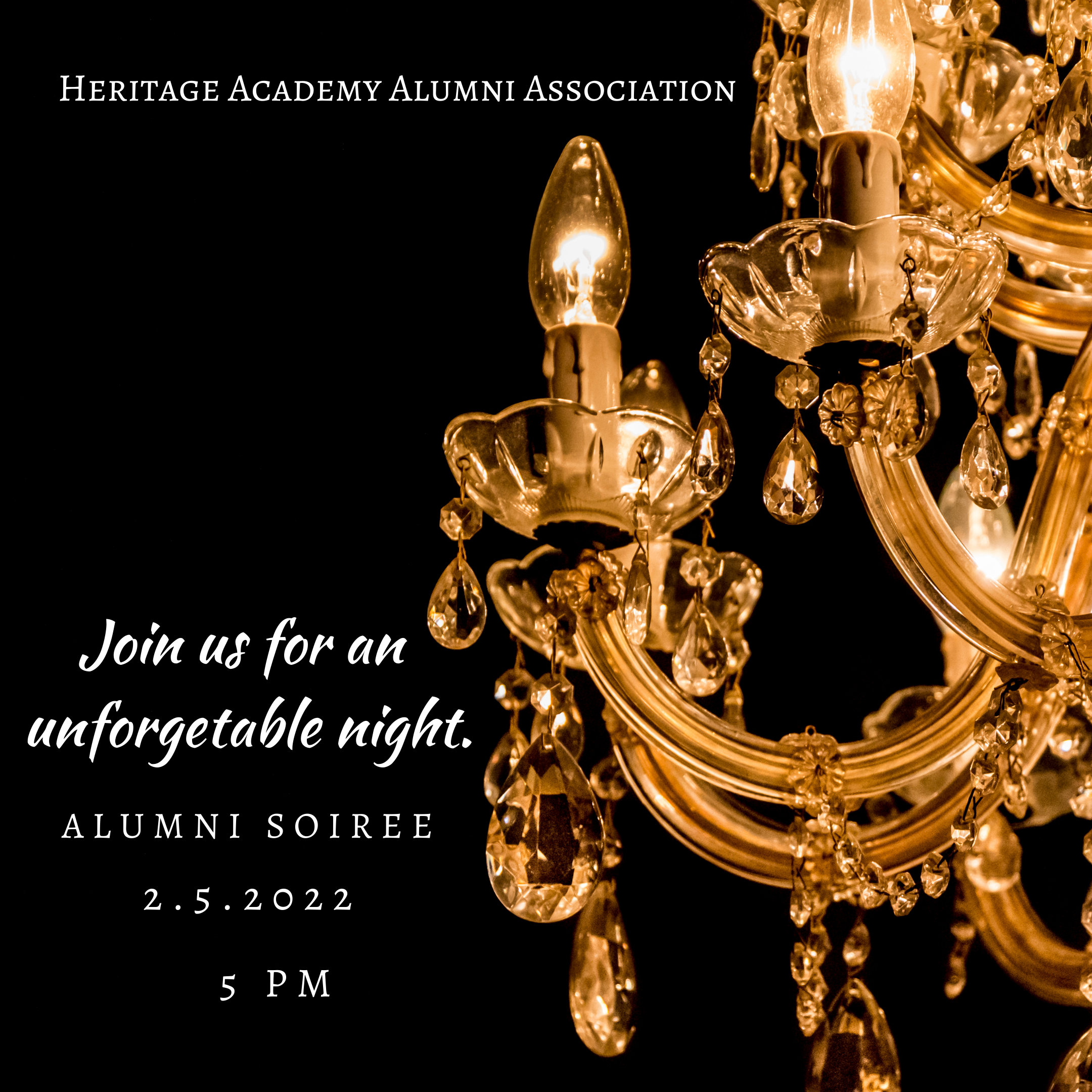 Keep in Touch!
Connect with us!
 We are so excited for all that is in store for this alumni association and we would be delighted to have you join us. This grand adventure begins with this invitation to connect. Please consider following us on 
social media
, subscribing to our 
newsletters
,
and also sharing this wonderful information with other alumni that you may still be in contact with.
We are also forming boards and committees to help facilitate the annual events that we will be hosting, if you have any interest in becoming part of this please reach out to us at
 heritageacademyalumniaz@gmail.com.
See You Soon!
Heritage Academy Alumni Association
A few Class of 2016 Alum share their experience
Testimonials