Heritage Academy's mission statement:
We are dedicated to youth, their growth and development, and believe in building sound character through strong families, strong communities, and a strong nation.
While teaching the academic disciplines, Heritage Academy is dedicated to instilling into the minds and hearts of our youth knowledge of and respect for the ideals and values of the great men and women of history, including those who founded the American nation.
As they gain an appreciation of these people of accomplishment, they will be ready to provide the selfless service to their fellow citizens and to their country which will be required in the coming years to assist in restoring America's greatness.
Heritage Academy exists to this end.
Important Dates to Remember
9/27 2022 Orchestra Concert 6:00 pm – 7:30 pm First United Methodist Church of Mesa, 15 E 1st Ave 85210

9/27 2022 Band Concert 7:30 pm – 9:00 pm Heritage Academy Auditorium

10/3 2022 – 10/6 2022 Fall Break 

10/13 2022 Dollars for Duds

10/14 2022 Government CLEP Practice 1 9:00 am – 11:00 am Room 3

10/14 2022 Swim Pasta Dinner 5:00 pm – 6:00 pm
A NOTE FROM Mrs. Udall:
Hello Heritage Families,
One more week left in this quarter!  Please be sure to check any emails from teachers and remind scholars to hit those deadlines.
Soccer, baseball, and volleyball oh my!  We have many sporting events next week and I hope to see some of you there.
Heidi Udall, Principal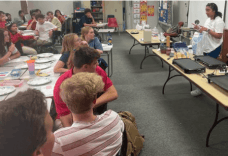 Hands on Learning!
Mrs. LuzHosie took a hands on approach to teaching about different cultures this week.  Her 3B Honors Spanish II class learned how to make tortillas from scratch! The scholars had a great time and learned a new appreciation for the complexity of this staple.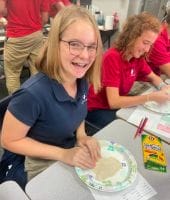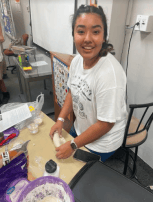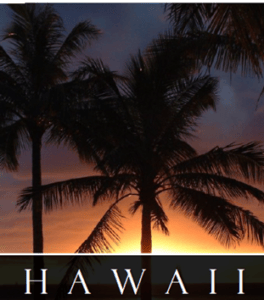 Heritage Performing Arts Hawaii Tour!  Mar 12, 2023 – Mar 17, 2023 
This tour is designed to provide our 9-12th grade scholars with some amazing performance-related experiences as well as experiencing the Hawaiian culture at the Polynesian Culture center.  Other sites include: Pearl Harbor memorial, Waimea Falls and the Circle Island tour.
$500 per person September 15, 2022
$500 per person October 15, 2022
$500 per person November 30, 2022
$750 per person January 15, 2023
Balance February 15, 2023
We encourage students to take advantage of Arizona ECA donation opportunities to help pay for tours.
Includes: Airfare, transportation, hotel rooms, breakfast & dinner, and all entrance fees.
Fine Arts Retreat  Jan. 11 -12, 2023
Advanced scholars from all Heritage Academy campuses enrolled in arts classes and programs may attend the Fine Arts Retreat in January.
Invited scholars will spend three nights and four days (Wed.-Sat.) at Pine Summit Camp located in Prescott, AZ. Scholars will spend two full days in intensive study and rehearsal in preparation for a live performance on Saturday.
Cost: $285 (includes transportation, meals, intensive workshops, extracurricular activities, and lodging at the camp.)
AZ Tax Credit can be used to pay for this!
Sign up today!
$140 due September 23, 2022**
$145 due December 1, 2022**
*Subject to based on enrollment
**No money will be refunded

YEARBOOK PRICING!
Missed out last year? Buy the 2021/22 Yearbook HERE limited supplies $30 each!
Want one this year? Buy the 2022/23 Yearbook HERE on sale for $45!
SENIORS: Interested in a senior ad?  Full page: $100; Half page: $50; Quarter page: $25 BUY YOUR SPACE HERE
Also available: BUY INDEX LETTERS HERE  and BUY BUSINESS AD HERE
Questions: Mrs. Melchin kmelchin@heritageacademyaz.com
ALL THE WORLD'S A STAGE!
Our hardworking and talented stage craft crew need some tools to help build the awesome sets used in our school productions.
WISH LIST:
paint brushes & rollers
measuring tapes
squares & speed squares
chalk lines
drill bits
saw blades
screwdrivers
hammers
Any hand or power tools that are no longer being used or just any donated ones would be greatly appreciated.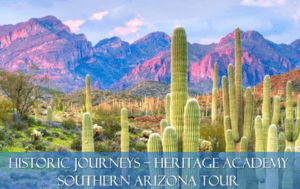 Junior High Southern Arizona Tour April 26 & 27, 2022
Exploring: Tombstone, Queen Mine, Bisbee(including ghost tour), Pima Air & Space Museum, and the Sonoran Desert Museum
Includes: transportation, hotel for 1 night, 2 breakfasts, 2 lunches, and 2 dinners, and admissions to venues
 Payment schedule: $370/person
$123.33 due Nov 1, 2022
$123.33 due Feb 1, 2023
Balance of Tour fee due March 1st, 2023
All payments must be via MySchoolBucks. Do NOT pay invoice directly with ECA funds.
Refund Policy (either tour company or student cancels) Full refund before Dec. 15, 2022. Refund minus $100 between Dec. 16th & Mar. 23rd No refund after March 24, 2023
Class of 2023 Caps & Gowns Order Now!
Jostens' has created graduation packages for your upcoming celebration!
Questions: Perry Spindler perry.spindler@jostens.com  or  Matthew Hatten matt.hatten@jostens.com
Please contact Jostens' directly with any questions. They will have all the answers and will  ensure your order is exactly what you (and your family) want. 
Mr. Kerwin Blau Learn more
Hi my name is Kerwin Blau, and I have been involved with music one way or another all my life. I have been a student of music for over 40 years and I have taught music and band for over 20 years. I was born and raised here in Mesa. I graduated from Gilbert High School and attended MCC and received my degree from ASU. My wife and I have been married for over 25 years and we have four children. Music has been such an important part of my life, and I have always wanted to be the kind of music teacher for my kids that I wish I would have had when I was a child. I have been fortunate to see music and the arts flourish here in the valley and I am excited to be a part of that. I also enjoy Scouting, reading, cooking, outdoor activities and being with my family. I am asked quite frequently what my favorite type of music is, and in all honesty I have to say it's usually the type that I am listening to, or performing at the moment. I like to have fun and play games and sports of all kinds.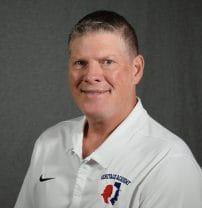 Mr. Bob Brown Schedule an Appointment HERE
Hello Heritage Academy scholars and families.
My name is Bob Brown. I am honored to introduce myself as your College Relations Manager for the Mesa campus. I am truly excited for this opportunity to help guide you on your journey with both high school and college planning. I came to Heritage Academy after spending 12 years at Rio Salado College as a Site Coordinator and Student Success Coach in Rio's Early College/Dual Enrollment department. While at Rio, I served thousands of students/parents with their early college opportunities which included: Dual Enrollment, ACE (Achieving a College Education), planning for Associate Degrees, placement testing, admissions and enrollment, and tuition assistance to name just a few. I am proud of the work I did at Rio Salado College and am excited to bring that knowledge and expertise to Heritage Academy. Prior to working at Rio Salado College, I worked in several different management capacities in the business sector. While I am proud of the accomplishments I made during this time, nothing gave me greater satisfaction than working with students/parents during my time at Rio Salado College.
Other things I enjoy are spending quality time with my wife of 29 years, both my daughters, and my two wonderful grandsons. I enjoy working in my backyard and on all the honey-dos my wife gives me, camping, golfing, softball, and just about anything outdoors. Appointments are available by phone, in-person, or virtually (see link above) I truly look forward to working with the Heritage Academy family.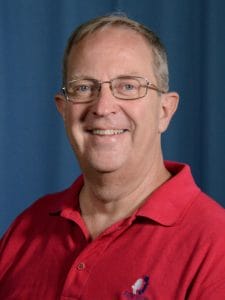 Mr. Jeff Burrell Learn more
My name is Jeff Burrell. I have been a teacher for many years; math, science, critical thinking, piano, problem-solving and some other odds and ends.   I have lived in Mesa, Arizona almost my entire life. I was born here, went to school here, got married here, went to school some more, got a job here, and am still in school here (just on a different side of the desk, now). My wife and I have been married for over 30 years. We have three children and love to spend time with them. I earned an Associate's Degree from Mesa Community College in General Studies. I went on to finish a Bachelor's Degree at Arizona State University in Secondary Education, with a minor/double-major in Mathematics. I am highly qualified to teach Mathematics and Physics in high school and college.  I earned my Master's Degree in Teaching and Learning (with an emphasis in Technology Integration) from Nova Southeastern University. When I am not teaching, I love to go on walks with my wife, take pictures of the sky, play games with my family, play and listen to music, make things with my LEGO collection, and solve puzzles. I enjoy teaching because I get to help others discover truth. I am grateful to have played a a part in training heroes at Heritage Academy since 1996.
Do you shop at Amazon? 
A percentage of every purchase could be going toward our school if you check out during your transaction at Smile.Amazon.com  instead of the normal amazon site. Do good while shopping and check out with Smile.Amazon.com every time you shop!
COLLEGE CORNER 
Seniors – don't forget to schedule your senior 1-on-1 meeting with Mr. Brown. 
You can scan the QR code outside Mr. Brown's office or click here.

FAFSA INFORMATION!
12th grade is the time to apply for admission to college and to apply for federal student aid by filling out the Free Application for Federal Student Aid (FAFSA®) form. Opens Oct. 1.  Check out goingmerry.com for a more user-friendly application, plus, there are thousands of scholarship opportunities.  Just complete your profile.
Complete the FAFSA form even if you believe your child won't qualify for any free federal aid. Many colleges will require FAFSA if you are getting any aid directly from the school. In addition, your family circumstances may change due to divorce, death or medical issues and you can appeal to the school due to the change in circumstance.
PSAT TEST!
Interested in PSAT? Sign up soon, only 30 seats left!
Questions? Come by or send me an email.
Mr. Brown