All things SENIORS!
Graduation
Congratulations Seniors!! Way to finish your secondary education strong and through a crazy pandemic!
Graduation is on May 20th @ Schnepf Farms 24810 E Rittenhouse Rd, Queen Creek, AZ 85142, and starts at 8:00pm. Please be 45 min early!We will be taking an individual photo of you in your cap and gown prior to the ceremony. Graduation will be different this year than it has been in years past, but it will still be really fun and meaningful. We look forward to celebrating you at the event.
Seniors, we need your transcripts to count for graduation. Contact Ms. Seaman if you have questions/conerns
Graduating Seniors have Congratulation Bags coming tomorrow on the 13th. If you didn't get a yard sign/bag there is a concern with your credits for graduation, see Ms. Seaman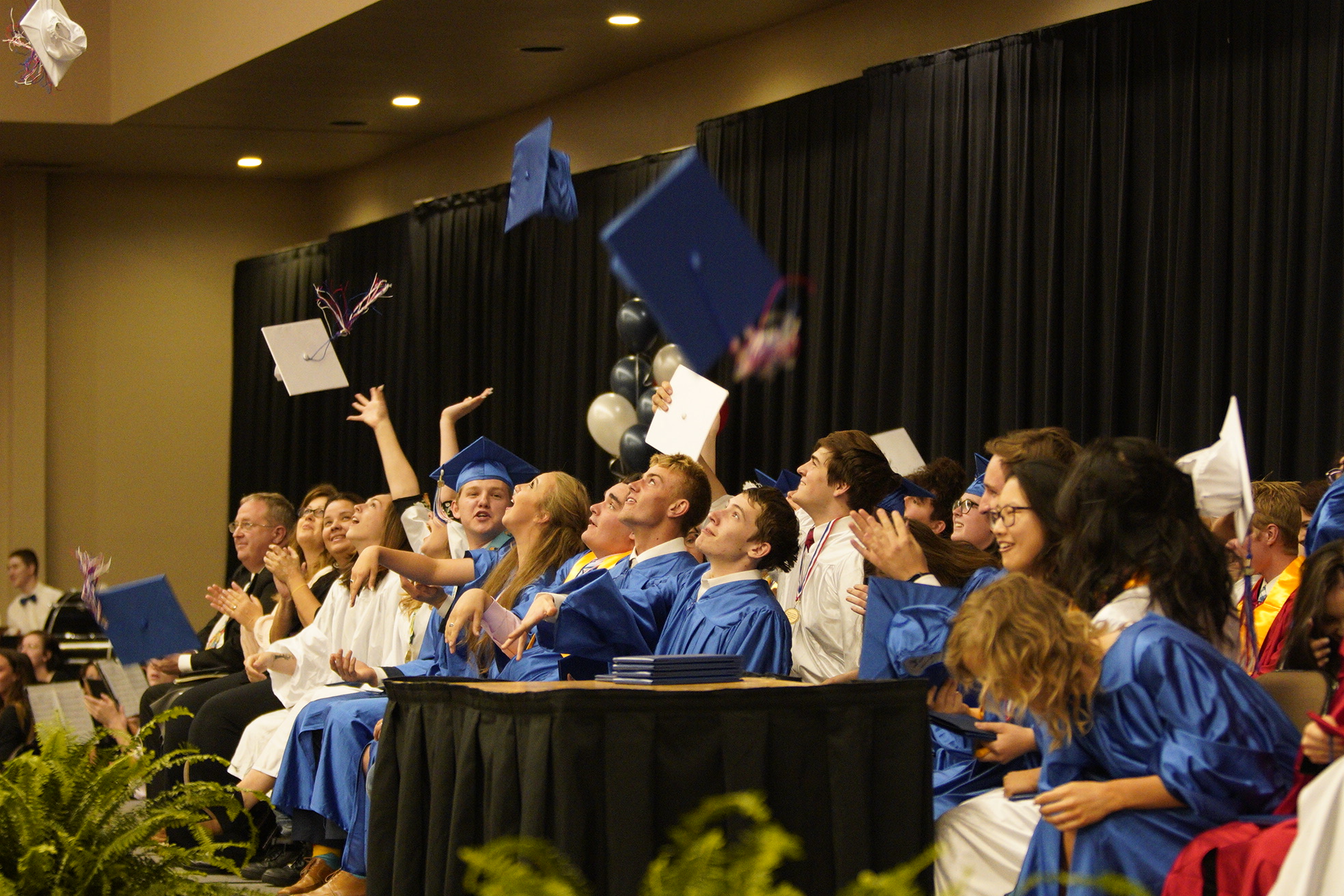 Senior Pictures
Here is the letter that went to each of your homes this summer: 
Dear Students and Parents of the Class of 2020:
Your senior year will be filled with exciting opportunities and memories you'll treasure for a lifetime. I'd like to take a moment to congratulate the Class of 2020 in advance, and share some important information. 
Prestige Portraits by Lifetouch has been selected as our official senior photographer for the Class of 2020. To provide you with the most convenient and hassle-free experience, we are excited to share that Prestige will be bringing the senior photography  studio experience here to the school. On Friday, September 20, Prestige will be set up in the Auditorium photographing senior photos. Here's what to expect:
Prestige will send out an additional communication notifying you of your appointment time.

Senior Photo Experience:

Complimentary Photo Session

Poses in your Yearbook Outfit

For your official yearbook photo it is required you be in Professional or Dressy attire

Poses in Cap & Gown 

NOTE: You must be dressed in compliance with the school dress code.

Additional upgraded sessions will be available and explained in your next communication.

Proofs will be mailed and emailed to you about 3 weeks after your photography session.

You will be able to easily view and select your yearbook image online.

Yearbook images and all photo orders will be automatically retouched.  

Your yearbook image selection will be sent directly to the school for you.
***Please note- you must be photographed by Prestige for your official yearbook picture***
Wishing you all the best for a successful senior year, 
Dr. Travis Moore, Principal
If you have ANY questions please contact Lifetouch. Email: Prestigesr@Lifetouch.com   Phone: (480) 296-2880
RETAKES! Senior Retakes Friday Nov 8th, 7am – 6pm in the Multipurpose Room. Seniors need to call for an appointment. Prestige 1-800-736-4775
Senior Dinner
Typically in May. More info coming in March 2020
Senior Activities for Class of 2020
First Semester:
September:
Senior Assassin MANDATORY Meeting: Sept 5th, at lunch, in Auditorium, to sign up, pay, and learn the rules
Class of 2020: Parents Night: Sept 5th, 6:00pm, at the school, info about graduation, college, and scholarships
Senior Assassin Start Date: Sept 9th, 12:00am
Spirit Week: Sept 9th-12th
1st Senior BBQ: Sept 12th, during lunch, Multipurpose room, sign up to bring something
Homecoming Football Game: Sept 12th, 7:00pm, Fiesta Sports Complex, car parade, dance company halftime, concessions
Homecoming Dance: Sept 13th, 8:00pm, AZ Heritage Museum at Papago Park, Night at the Museum Themed
Senior Pictures: Sept 20th, Time TBD, School, come dressed in your best & bring a change of clothes (casual). You need to schedule your time slot for photos through the email listed above in Senior Pictures. 
October:
Senior Lake Day: Oct 18th, Time TBD, Butcher Jones Beach
November:
2nd Senior BBQ: Nov 21st, during lunch, Multipurpose room, sign up to bring something
December:
Winter Formal: Dec 13th, 8:00pm, The Wright House
Second Semester:
January:
Senior Lock In: Jan 23rd, 9:00pm, Auditorium and Room 1, movies, food, and games
February:
Sadie's: Feb 20th, 8:00pm, Location TBD
3rd Senior BBQ: Feb 27th, during lunch, multipurpose room, sign up to bring something
March:
Senior Service: One of the days the week of the 22nd-28th of March, Time and location TBD
April:
4th Senior BBQ: April 9th, during lunch, multipurpose room, sign up to bring something
Prom: April 17th, 8:00pm, Mesa Country Club
May:
Sunset Hike: May 9th, 7:00pm, Spook Hill Mountain Preserve, food and watch the sunset
Senior Dinner: May 13th, 5:00pm, Auditorium, senior video, yearbooks, and food
Tie-Dye Party: Date TBD, Matt's Farm, dye-tye polos, popcorn, snow cones, movie
GRADUATION: May 21st, 6:30pm, Mesa Convention Center
Keep an eye out for any changes on the Senior Remind, Senior Group Chat, or the Senior Instagram @haseniors2020
Contact Sidney Taylor for any questions or suggestions
Lunch Info
There are many great places to eat lunch near campus. The most affordable of them would be the 8th floor cafe in the MPS building down the road. Here is their monthly menu if you are interested in checking it out.