Heritage Academy's mission statement:
We are dedicated to youth, their growth and development, and believe in building sound character through strong families, strong communities, and a strong nation.
While teaching the academic disciplines, Heritage Academy is dedicated to instilling into the minds and hearts of our youth knowledge of and respect for the ideals and values of the great men and women of history, including those who founded the American nation.
As they gain an appreciation of these people of accomplishment, they will be ready to provide the selfless service to their fellow citizens and to their country which will be required in the coming years to assist in restoring America's greatness.
Heritage Academy exists to this end.
Important Dates to Remember
8/19 Heritage Swim HS/JH Meet 6:00 pm – 8:00 pm Chandler High School, 350 N Arizona Ave 85225

8/22 Heritage Boys Soccer @ Glenview College  Prep 4:30 pm – 5:30 pm Rose Mofford Sports Complex Soccer Field #1 9833 N 25th Ave 85021

8/22 Heritage GVB (JH2) @ EDUPRIZE 2 5:30 pm – 6:30 pm EDUPRIZE – Gilbert 1383 E Baseline Rd 85233

8/23 Parent Softball Meeting Rm 3 4:00 pm – 5:00 pm

8/23  Heritage GVB (JV) @ James Madison 4:30 pm – 5:30 pm Mesa Baptist Church 2425 S Alma School Rd 85210 

8/24 Heritage GVB (JH1) @ Ville de Marie 4:30 pm – 5:30 pm Interstake Center 830 E 2nd Ave 85204 

8/26 Heritage Swim HS/JH Meet 2:30 pm – 6:00 pm Chandler High School, 350 N Arizona Ave, 85225

9/4 Labor Day Break NO SCHOOL

9/5 Labor Day Break NO SCHOOL
A NOTE FROM Mrs. Udall:
Hello Heritage Families,
Another great week has come and gone.  We recognize that the weather has not gotten significantly cooler over the last few weeks and we are allowing scholars to eat lunch in the ballroom/multipurpose room any day the temperature is over 105 degrees. We do request that only WATER is allowed for drink in this room. Send a refillable water bottle for your scholars to stay hydrated.
You are all doing a great job in dropping off and picking up your scholars.  Remember we have this system in place to keep all of our scholars safe.
We have a number of games this week and I hope to see some of you there.  Check out the Events Calendar!
Have a wonderful weekend.
Heidi Udall, Principal
FALL FEES ARE NOW PAST DUE!
Scholars will be dropped from classes beginning Monday 8/21 non-payment of fees.  
Please log in to your MySchoolBucks account to see any outstanding invoices.
Can't see invoice: click on the person shaped icon in the right-hand corner >  "my students" > "add a student" refresh browser 
Pay Invoice NON-ECA payments
Click on "PAY NOW" link in invoice  We are unable to process refunds or change payments to ECA donations after you've paid the invoice.
Pay Using non-refundable ECA Tax Credit: Do not pay using invoice link  
MySchooolBucks > School Store > Donations > View Details OR go to  hamesa.com.
What If My Scholar Has Credit That Needs to be Applied?
Send an email to mesaregistrar@heritageacademyaz.com and include the following information:
PAY FEE WITH ACCOUNT CREDIT:  Last Name First Name  Invoice to be paid Amount to be paid
If you wish to transfer funds between scholars, please use the following format:
TRANSFER FROM: Last Name First Name Amount to Transfer TRANSFER TO: Last Name First Name Fee to be paid with transfer
Once the registrar receives the email, payment will be applied the invoice.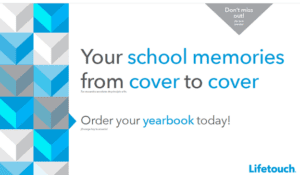 ORDER YOUR YEARBOOK NOW! 
It's time to order the yearbook! Use the QR code on the attached flyer OR  ORDER YEARBOOKS HERE and enter our Yearbook ID Code: 15116624.
Early bird price (Oct. 5th deadline): $60
Price AFTER Oct. 5th: $65 
To buy with cash: Bring flier and EXACT cash amount to Ms. Connelly (front desk) or Ms. Wilson (NO change will be available)
Senior ads are also available. More information about that will come out soon.
Questions? Contact Ms. Wilson kimberly.wils@heritageacademyaz.com
LIMITED NUMBER OF HATS AVAILABLE
Starting next Wednesday (8/23/2023) PTO will be selling baseball hats.
PRICE: $20 (One size fits all)
Available for sale ONLY during lunch.
Only 30  available!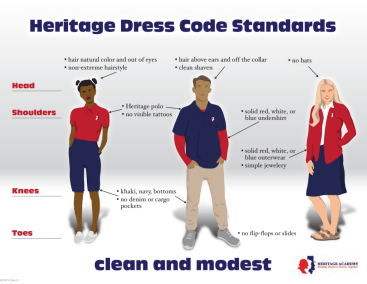 ORDER UNIFORMS NOW FOR FALL!
DRIVE LINE
In back (on Drew Street):
For all lanes, pull as far north as you can. Do not drop off or pick up scholars by the junior high stairs. Please pull all the way up toward the dumpsters so we can keep traffic flowing and off Drew Street.
The far right lane is our designated Carpool Lane. Please use this lane if your carload needs extra time getting in and out of the car.
The left lane is for quick drop-off or pick up.
Keep the far left lane open for vehicles to exit. No stopping, loading, or unloading in this lane.
If you need to park during these rush hours, please use the City of Mesa parking lot west of Drew Street.
Scholars are expected to use the crosswalk and not J walk across Drew Street if they are crossing.
In front (on Center Street):
There is 10 minute parking at the front of the school. Mesa PD will issue a ticket if you U turn. Do not park in this space before or after school. If you are waiting for you scholar, park along 1st Avenue.
The alley will be closed for the next 12 months. The Heritage parking area will no longer be accessible from Main Street.
General:
Scholars are welcome to drive to school. Parking permits are required and can be picked up at the front office. We suspect we will run out on the first day. We do not have enough spaces for everyone who wants to park – please carpool, if possible. Seniors and Juniors are given priority. Other free parking is along 1st Avenue and in the church parking lot south of campus (not FUMC).
Parking is becoming more difficult in downtown Mesa. The City will ticket anyone who violates the permitted spaces and the 2 hour parking spaces in the city lot west of the school. All 1 hour parking spaces now require a tan permit.
Please be courteous to our business neighbors. Do not use their parking spaces or block their parking lots. If you need to wait for your scholar, park over in the Bank of America parking lot. Do not clog up the spaces behind Main Street businesses.
Senior Activities 2023-2024 (Subject to change)
First Semester:
September: 
Senior Assassin Meeting: Sept 7th
1st Senior BBQ: Sept 7th
Senior Assassin Start Date: Sept 11th
October: Senior Lake Day: Oct 27th
November: Nothing for now
December: 2nd Senior BBQ: Dec 7th

INTRODUCING the Paul Revere Academy (PRA) 
Heritage is expanding! We are excited to introduce a unique academic experience through the Paul Revere Academy (PRA) – starting in July 2023.  East Valley Institute of Technology (EVIT) and Heritage Academy have partnered to bring a complete high school education to the West Main Street campus of EVIT. Students will earn their high school diploma and industry certifications all on one campus.
Paul Revere is considered one of the Founding Fathers as well as a skilled tradesman. While PRA is part of the Heritage family of schools, it is designed to serve scholars interested in obtaining hands-on training and workforce ready credentials.  At the same time, it extends our mission of building character, developing loyalty to the ideals of our country, and serving in our community.
Scholars at PRA will split their day between taking core classes at Paul Revere Academy and elective/Career Technical Education (CTE) classes at EVIT. All youth interested in a more streamlined approach to obtaining a high school diploma and CTE certificates are welcome to apply. Please visit our website: www.paulrevere.tech for more information.
Stephanie Lund, Principal stephanie.lund@paulrevere.tech
COLLEGE CORNER 
Seniors – don't forget to schedule your senior 1-on-1 meeting with Mr. Brown. 
You can scan the QR code outside Mr. Brown's office or click here.
IMPORTANT DUAL ENROLLMENT INFORMATION
NOTE – if you are a current senior, be sure to schedule your senior one-on-one appointment with me for sometime in September.  Don't wait for the last second.
If you are new to dual enrollment, you will need to complete admissions (step 1) to Rio Salado College. Enrollment and Registration Steps here .  If you need any placement tests, I will let you know.
Important links here – login is your MEID@maricopa.edu.  Here, you will be able to upload your birth certificate and photo ID, complete the financial responsibility form, and fill out the Petition for Semester Overload if you are enrolling in more than 18 DE credits in one semester, to name a few.
For those who were approved for Tuition Assistance, I have contacted Rio to enroll you accordingly.
For the rest that indicated they wanted to take part in dual enrollment, I will be emailing Rio soon.  Be on the lookout for emails with tasks to complete (if needed).
Email me at bob.brow@heritageacademyaz.com with any questions. To ensure a timely response be sure to provide the scholar's 8-digit college ID# (starts with a 3) or indicate new to dual enrollment.  Please leave a detailed message, so I can better serve you.
Thanks,
Bob Brown

FAFSA INFORMATION!
12th grade is the time to apply for admission to college and to apply for federal student aid by filling out the Free Application for Federal Student Aid (FAFSA®) form. Opens Oct. 1.  Check out goingmerry.com for a more user-friendly application, plus, there are thousands of scholarship opportunities.  Just complete your profile.
Complete the FAFSA form even if you believe your child won't qualify for any free federal aid. Many colleges will require FAFSA if you are getting any aid directly from the school. In addition, your family circumstances may change due to divorce, death or medical issues and you can appeal to the school due to the change in circumstance.