MONDAY JAN. 2 2023 SCHOOL RESUMES
CLICK HERE FOR SHORT ONE PAGE CALENDAR

Heritage Academy's mission statement:
We are dedicated to youth, their growth and development, and believe in building sound character through strong families, strong communities, and a strong nation.
While teaching the academic disciplines, Heritage Academy is dedicated to instilling into the minds and hearts of our youth knowledge of and respect for the ideals and values of the great men and women of history, including those who founded the American nation.
As they gain an appreciation of these people of accomplishment, they will be ready to provide the selfless service to their fellow citizens and to their country which will be required in the coming years to assist in restoring America's greatness.
Heritage Academy exists to this end.
Important Dates to Remember
12/16- 01/01 2023 NO SCHOOL WINTER BREAK

01/02 2023 FIRST DAY OF SPRING SEMESTER 

01/9 Fees DUE 2nd semester 

01/11 – 1/14 Fine Arts retreat at Emmanuel 

01/16 No School Civil Rights Day

01/19 SC After School Social 3:30 pm – 5:30 pm

01/20 Ballroom DWTS 12:00 pm – 9:00 pm
A NOTE FROM Mrs. Udall:
Hello Hero Families, I just want to take a moment to thank you for an amazing semester.
School resumes on Monday, January 2
I hope you have a wonderful holiday season with your families!
Heidi Udall, Principal
Heritage's National Honor Society Toy Drive

This Christmas season, Heritage's National Honor Society conducted a school wide toy drive for an orphanage across the world in Durres, Albania. Recently hit with an earthquake, the orphanages are still struggling to rebuild themselves. This has left them without the resources to provide the children with gifts this Christmas. However, with the help of the Heritage scholars, the NHS will be shipping toys to the orphanages this season. Thank you for all of your help in making Christmas for these kids!
DEC. 31, 2022 DEADLINE FOR OPEN ENROLLMENT
Any sibling application received after Dec. 31, 2022 will be added to the waitlist.
SIBLINGS OF CURRENT SCHOLARS: If you have a sibling who wants to attend Heritage next year, they must complete the application during the open enrollment period to be included in the lottery. While siblings do receive priority, a completed application MUST be submitted during open enrollment to be eligible for the lottery. 
NEW SCHOLARS –  If you have friends that do not currently attend Heritage but would like to join us next year…they will need to complete the enrollment application.  Any applications received after Dec. 31, 2022, will be added to the waitlist in the order they are submitted.
JAN. 9 Deadline for 2ND Semester Course Fees 
Spring 2023 fees have been assessed.  Please check your inboxes for invoices or log in to your MySchoolBucks account.  Be sure to add your scholar to your MSB account: click "my students;" click "add a student" to connect the scholar to the account (Refresh the browser and you should be able to see the outstanding balances under "School Invoices.")
Pay Using ECA Tax Credit: do not pay using the link in the invoice. Instead, log into MySchooolBucks > School Store > Donations > View Details OR go to  hamesa.com. Please remember all ECA donations are non-refundable.
PS: if you have not yet paid your suggested annual PTO dues of $20 per family, please consider doing so now.
TACO BELL FOUNDATON SCHOLARSHIP
The deadline to apply is January 11, 2023 at 5:00 PM PST.

The Live Más Scholarship is for students who are pursuing higher education, preparing for the workforce, or using their passion to ignite change in their communities and beyond. We believe in you – no matter where you are in your journey, whether just recognizing your strengths and developing your passion or bringing it to life and inspiring others to join you.  This program is more than a scholarship. We're not merely a one-off check writer – we're a continued partner and collaborator who'll be there with connections and opportunities throughout your journey to help your passion shine so brightly, it changes the world.
FREE GIRLS' SOCCER CAMP
Come join our new asst. Soccer coach and learn leadership and team skills.  Camp includes footwork, passing, finishing techniques and games.
WHO: Open to 7-12th grade current scholars
WHERE:  Mountain View Park off Adobe and Lindsey
WHEN: DEC. 19-23 4-5:30
NEEDED: Bring cleats/running shoes and ball if you have one.
Questions? Contact Sawyer Neus (480) 798-7765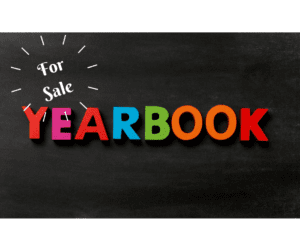 YEARBOOK: Don't get left out! Buy one now!
Missed out last year? Buy the 2021/22 Yearbook HERE limited supplies $30 each!
Want one this year? Buy the 2022/23 Yearbook HERE on sale for $50!
SENIORS: Interested in a senior ad?  Full page: $100; Half page: $50; Quarter page: $25 BUY YOUR SPACE HERE
Also available: BUY INDEX LETTERS HERE  and BUY BUSINESS AD HERE
Questions: Mrs. Melchin kmelchin@heritageacademyaz.com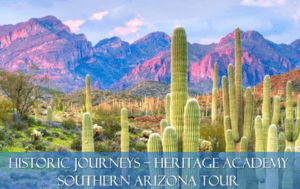 Junior High Southern Arizona Tour April 26 & 27, 2022
Exploring: Tombstone, Queen Mine, Bisbee(including ghost tour), Pima Air & Space Museum, and the Sonoran Desert Museum
Includes: transportation, hotel for 1 night, 2 breakfasts, 2 lunches, and 2 dinners, and admissions to venues
 Payment schedule: $370/person
$123.33 due Nov 1, 2022
$123.33 due Feb 1, 2023
Balance of Tour fee due March 1st, 2023
All payments must be via MySchoolBucks. Do NOT pay invoice directly with ECA funds.
Refund Policy (either tour company or student cancels) Full refund before Dec. 15, 2022. Refund minus $100 between Dec. 16th & Mar. 23rd No refund after March 24, 2023
Class of 2023 Caps & Gowns Order Now!
Jostens' has created graduation packages for your upcoming celebration!
Questions: Perry Spindler perry.spindler@jostens.com  or  Matthew Hatten matt.hatten@jostens.com
Please contact Jostens' directly with any questions. They will have all the answers and will  ensure your order is exactly what you (and your family) want. 
Mr. Colton Reese Learn More Here 
I was born and raised in Mesa, AZ. I graduated from Red Mountain High School in Mesa. I attended Mesa Community College for my associate's degree. I received my bachelor's degree in Business Communications from Arizona State University. Recently, I completed my Masters' in Secondary Education from Grand Canyon University (Go Lopes!) I have always had a passion for math, statistics, and coaching. Heritage Academy gave me an opportunity to accomplish all of that! I teach Geometry along with coaching football, basketball, and am the Varsity Head Coach for baseball. I love seeing the kids grow both in the classroom and on the field! This is my sixth year teaching and I am beyond excited to grow with the scholars. Heritage Academy is an outstanding school and I would not want to teach anywhere else. When I am not teaching or coaching, I am at the gym! Working out is my escape! I love spending time with my wife and four amazing kids. We love exploring the great outdoors! Family, school, and sports are my life.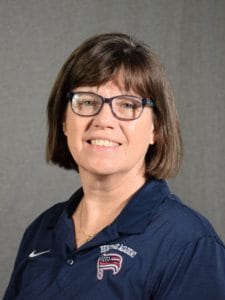 Mrs. Marie Renard Learn More Here
My family and I immigrated to the United States in 1997 and I started teaching at Heritage Academy the following year. I was raised speaking several languages and have a Masters degree in History from the University of Brussels and recently completed a Masters in Curriculum and Instruction at Western Governors University. Born in Africa and having spent my adolescence in Europe, I was thrilled to be given the great privilege of living in the United States. In a very short time, I was able to understand the wonderful opportunities this country has to offer.  I love teaching scholars about other cultures and customs, and the history of this great world and state we live in. But as an immigrant, I truly value the freedoms this country has fought to uphold and am passionate about teaching scholars what they need to treasure.
Mrs. Meloney Rogers
I'm an Arizona Native. Arizona has been my home my entire life with a brief exception when I attended school in Utah. My husband of 19 years and I have enjoyed raising our three children here.  Some of our favorite places to go in Arizona involve camping in the White Mountains, hiking in Sedona and skiing in Flagstaff. I also enjoy curling up with a book, watching international dramas on Netflix, playing the piano, yoga and shopping! After 13 years of staying home raising my children, I am excited to be at Heritage Academy helping out at the front desk.
Do you shop at Amazon? 
A percentage of every purchase could be going toward our school if you check out during your transaction at Smile.Amazon.com  instead of the normal amazon site. Do good while shopping and check out with Smile.Amazon.com every time you shop!
COLLEGE CORNER 
Seniors – don't forget to schedule your senior 1-on-1 meeting with Mr. Brown. 
You can scan the QR code outside Mr. Brown's office or click here.

FAFSA INFORMATION!
12th grade is the time to apply for admission to college and to apply for federal student aid by filling out the Free Application for Federal Student Aid (FAFSA®) form. Opens Oct. 1.  Check out goingmerry.com for a more user-friendly application, plus, there are thousands of scholarship opportunities.  Just complete your profile.
Complete the FAFSA form even if you believe your child won't qualify for any free federal aid. Many colleges will require FAFSA if you are getting any aid directly from the school. In addition, your family circumstances may change due to divorce, death or medical issues and you can appeal to the school due to the change in circumstance.