Important Dates to Remember
8/5 Athletic Sports Physicals -Room 1, $25 8:00 am – 11:00 am 

8/10 Dance Company Back to School @ 11:30 am – 1:30 pm Kim Wilson's home

8/15 School Pictures & IDs

8/15  PTO Meeting 6:00 pm – 7:00 pm 

8/16 School Pictures & IDs

8/16 Senior Group Photo 11:15 am – 12:15 pm
A NOTE FROM Mrs. Udall:
Welcome to our 2023-2024 school year!  We are excited to see our scholars back on campus!  Our theme this year is United We Stand. We want our staff, scholars, and parents to all be united in providing your children with the best educational experience at Heritage.
The beginning of the year is a good time to review Heritage standards with your scholars. This will help avoid any confusion with expectations while at school.  For families new to Heritage, you can find most information to review in your packet from orientation.  However, our full handbook can be found on our website hamesa.com.
Scholars should not be on campus before 7:15 am and should be picked up by 3:45 pm. There will not be supervision before or after those times unless we have a school activity.
Also, our driveline is being monitored closely again this year.  Please review the driveline maps we send out (DROP OF & PICK UP MAP).  A few items:
pull all the way north (by the dumpsters) when picking up and dropping off scholars
use the far right lane for carpool and do not stop in the far left lane
please do not line up before 3:15 pm.
Let's be united in being good neighbors to our community by doing our part to follow these procedures to help things run as smoothly, but more importantly, as safely as possible. Our staff, city, and neighbors are excited about your cooperation.
Thank you for having your family at Heritage.  We love our scholars and look forward to working with them all year. We have a lot of exciting things happening this year and look forward to sharing it with you.
Sincerely,
Heidi Udall
Principal Heritage Academy Mesa

LET'S EAT! Heritage's lunch options
Heritage Academy utilizes the services of My Hot Lunchbox for our scholar lunches. Scholars are welcome to continue to bring their own lunches.  Our PTO also sells snacks each day from the kitchen.
SPORTS PHYSICALS!
Physicals for our scholars will be held this Saturday, August 5, 8 am – 11 am, Room 1.
COST & PAYMENT OPTIONS:
CASH (EXACT AMOUNT ONLY) $25
CHECK: $25
SENIOR PICTURES
Prestige Photography by Lifetouch has been selected as our official senior photographer for the Class of 2024. 
8/11/23 -Prestige will be on campus for senior sessions. You will receive a communication via Prestige/Lifetouch beginning 30 days before picture day to schedule using your 8-digit code. The website is also full of helpful information about your scheduled session.
Senior image for yearbook will be head and shoulders pose.
Dress code: "Dress for Success" – Button up or nice blouse provided by student.
Prestige will be back on campus for make ups for the yearbook pose only on 10/19/23
**It is MANDATORY to be photographed for at least a yearbook photo session at one of the dates listed above**
Set up your appointment with Prestige. 
Please visit our website schedule.prestigeportraits.com
Enter your 8 digit code from your email from Prestige-  If you don't have a code, enter in your State, and City. And then hit search. 
Once you have entered in your City and State and hit the search button. A list of high schools will appear, now find and select the correct high school.
Next step, select your school. Then type in the students' first and last name (No Nick-Names) and then schedule your appointments.If you run into any difficulties scheduling an appointment, please call (800)736-4775 Option 2 Option 2, and a live person will help you get scheduled.

WELCOME TO HERITAGE!
Along with our Scholar Council, our Heroes football team was on site to welcome all of our new scholars at the Heroes Welcome event!
In addition, the players attended an intense football camp in Prescott and helped out at our new sister campuses (shoveling mulch, moving furniture, etc.) to prepare them for the school year.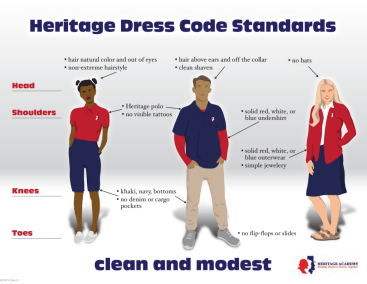 ORDER UNIFORMS NOW FOR FALL!
DRIVE LINE
In back (on Drew Street):
For all lanes, pull as far north as you can. Do not drop off or pick up scholars by the junior high stairs. Please pull all the way up toward the dumpsters so we can keep traffic flowing and off Drew Street.
The far right lane is our designated Carpool Lane. Please use this lane if your carload needs extra time getting in and out of the car.
The left lane is for quick drop-off or pick up.
Keep the far left lane open for vehicles to exit. No stopping, loading, or unloading in this lane.
If you need to park during these rush hours, please use the City of Mesa parking lot west of Drew Street.
Scholars are expected to use the crosswalk and not J walk across Drew Street if they are crossing.
In front (on Center Street):
There is 10 minute parking at the front of the school. Mesa PD will issue a ticket if you U turn. Do not park in this space before or after school. If you are waiting for you scholar, park along 1st Avenue.
The alley will be closed for the next 12 months. The Heritage parking area will no longer be accessible from Main Street.
General:
Scholars are welcome to drive to school. Parking permits are required and can be picked up at the front office. We suspect we will run out on the first day. We do not have enough spaces for everyone who wants to park – please carpool, if possible. Seniors and Juniors are given priority. Other free parking is along 1st Avenue and in the church parking lot south of campus (not FUMC).
Parking is becoming more difficult in downtown Mesa. The City will ticket anyone who violates the permitted spaces and the 2 hour parking spaces in the city lot west of the school. All 1 hour parking spaces now require a tan permit.
Please be courteous to our business neighbors. Do not use their parking spaces or block their parking lots. If you need to wait for your scholar, park over in the Bank of America parking lot. Do not clog up the spaces behind Main Street businesses.
Senior Activities 2023-2024 (Subject to change)
First Semester:
August:   Senior Pictures: Aug 11th (look for email & sign up!)  Group Picture: Aug 16th
September:  Senior Assassin Meeting: Sept 7th 1st Senior BBQ: Sept 7th Senior Assassin Start Date: Sept 11th
October: Senior Lake Day: Oct 27th
November: Nothing for now
December: 2nd Senior BBQ: Dec 7th

INTRODUCING the Paul Revere Academy (PRA) 
Heritage is expanding! We are excited to introduce a unique academic experience through the Paul Revere Academy (PRA) – starting in July 2023.  East Valley Institute of Technology (EVIT) and Heritage Academy have partnered to bring a complete high school education to the West Main Street campus of EVIT. Students will earn their high school diploma and industry certifications all on one campus.
Paul Revere is considered one of the Founding Fathers as well as a skilled tradesman. While PRA is part of the Heritage family of schools, it is designed to serve scholars interested in obtaining hands-on training and workforce ready credentials.  At the same time, it extends our mission of building character, developing loyalty to the ideals of our country, and serving in our community.
Scholars at PRA will split their day between taking core classes at Paul Revere Academy and elective/Career Technical Education (CTE) classes at EVIT. All youth interested in a more streamlined approach to obtaining a high school diploma and CTE certificates are welcome to apply. Please visit our website: www.paulrevere.tech for more information.
Stephanie Lund, Principal stephanie.lund@paulrevere.tech
COLLEGE CORNER 
Seniors – don't forget to schedule your senior 1-on-1 meeting with Mr. Brown. 
You can scan the QR code outside Mr. Brown's office or click here.

FAFSA INFORMATION!
12th grade is the time to apply for admission to college and to apply for federal student aid by filling out the Free Application for Federal Student Aid (FAFSA®) form. Opens Oct. 1.  Check out goingmerry.com for a more user-friendly application, plus, there are thousands of scholarship opportunities.  Just complete your profile.
Complete the FAFSA form even if you believe your child won't qualify for any free federal aid. Many colleges will require FAFSA if you are getting any aid directly from the school. In addition, your family circumstances may change due to divorce, death or medical issues and you can appeal to the school due to the change in circumstance.