Important Dates to Remember
4/21 – 4/23 Spring Musical Performances

4/21 2022 Heritage JH Coed Soccer vs EDUPRIZE 4:00 pm – 5:00 pm Eagle Sports Complex 828 E Broadway Rd 85204

4/21 2022 Heritage Softball vs Ridgeline Academy 4:00 pm – 5:00 pm Interstake Center 830 E 2nd Ave 85204

4/21 2022 Heritage JH Boys BB 1 vs Val Vista Academy 4:30 pm – 5:30 pm Val Vista Academy 4120 S Val Vista Dr 85297

4/21 2022 Heritage Boys VB 2 vs EVAC 5:15 pm – 6:15 pm 1st United Methodist Church 15 E 1st Ave 85210

4/22 2022 Heritage Baseball vs EVAC 4:00 pm – 5:00 pm Gene Autry Park 4125 E McKellips Rd 85215

4/23 Alumni Association Picnic on practice field 11:30 am – 1:30 pm RSVP 

4/23 Heritage Track Meet 3:00 pm – 4:00 pm Thunderbird High School, 1750 W Thunderbird Rd, 85023

4/25 2022 New Scholar Orientation  3:45 pm – 4:15 pm 

4/25 2022 Heritage Baseball vs Holy Family Academy 4:00 pm – 5:00 pm Gene Autry Park Baseball Field #1 4125 E McKellips Rd 85215

4/25 2022 Heritage Boys VB 1 @ Imagine Coolidge 6:00 pm – 7:00 pm Imagine @ Coolidge GYM 1290 W Vah Ki Inn Rd 85128

4/26 2022 New Scholar Sibling Orientation 3:45 pm – 4:15 pm 

4/26 2022 Heritage Coed Soccer JH vs Leading Edge Mesa 4:30 pm – 5:30 pm Eagle Sports Complex 828 E Broadway Rd 85204

4/26 2022 Heritage Boys VB 2 @ Canyon State Academy 5:30 pm – 6:30 pm Canyon State Academy 20061 E Rittenhouse Rd  85142

4/26 2022 Heritage Boys VB 1 vs EVAC 6:00 pm – 7:00 pm Mesa Baptist Church GYM 2425 S Alma School Rd 85210

4/27-4/28 2022 JH History Tour 

4/27 2022 Heritage Coed Soccer vs WSST 4:00 pm – 5:00 pm Eagle Sports Complex 828 E Broadway Rd 85204

4/27 2022 Heritage Boys VB 2 vs Basis Peoria  5:45 pm – 6:45 pm 1st United Methodist Church 15 E 1st Ave 85210

4/28-4/30 2022 Spring Performance Art Tour

4/28 2022 Heritage Baseball vs Heritage Gateway 4:00 pm – 5:00 pm Gene Autry Park 4125 E McKellips Rd 85215
Heritage Academy's mission statement:
We are dedicated to youth, their growth and development, and believe in building sound character through strong families, strong communities, and a strong nation.
While teaching the academic disciplines, Heritage Academy is dedicated to instilling into the minds and hearts of our youth knowledge of and respect for the ideals and values of the great men and women of history, including those who founded the American nation.
As they gain an appreciation of these people of accomplishment, they will be ready to provide the selfless service to their fellow citizens and to their country which will be required in the coming years to assist in restoring America's greatness.
Heritage Academy exists to this end.
A NOTE FROM Mrs. Udall:
Hello Heritage Families,
We are excited to announce that we have been accredited for another 6 years!  This is an important milestone that could not have been achieved without the dedication of our teachers, staff, and families.
We've had a good week, keep encouraging your scholars to turn in assignments and continue to work hard. Teachers have set deadlines for all late/missing work. Please have scholars communicate now if they are struggling. We have found that tutoring with their teachers is the best way for scholars to improve.
It's the first time we've had 2 separate casts for the musical.  Mrs. Towne has done a wonderful job working with some very talented scholars!  I hope you are able to come to one of the performances (ticket information HERE) and that you have some time to look at the astonishing artwork on display.
We've met with all Seniors to talk about graduation. If your senior needs to improve a grade to pass their course, see information about our Credit Recovery program in the newsletter.
Graduation will be held on Thursday, May 19, at 7:00 p.m. at the Mesa Convention Center. Please see the attached Graduation handout for events, dress code, times, and dates.
I hope to see you at some of our sporting events this week!
Sincerely,
Heidi
THE PLAY'S THE THING!
LITTLE WOMEN
Based on Louisa May Alcott's life, Little Women follows the adventures of sisters, Jo, Meg, Beth and Amy March. This timeless, captivating story is brought to life in a beautiful musical filled with personal discovery, heartache, hope and everlasting love.
We have double cast many leading and supporting roles. If you want to see specific actors, please have them tell you which cast they are in.

Attic Cast =   April 14, 18 & 22 at 7 pm

Books Cast = April 15, 21 at 7pm and 23 at 3 pm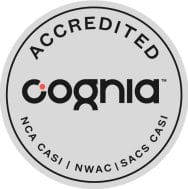 School accreditation as conferred by the Cognia Global Accreditation Commission provides Heritage Academy a nationally recognized mark of quality for our school.   It demonstrates to our community our commitment to excellence, our openness to external review and feedback, and our desire to be the best we can be on behalf of the students we serve.
Dr. Mark A. Elgart, president and CEO of Cognia, stated, "Cognia Accreditation is a rigorous process that focuses the entire school and its community on the primary goal of preparing lifelong learners in engaging environments where all students can flourish.  To earn Cognia accreditation, a school district also must implement a continuous process of improvement and submit to internal and external review.  Heritage Academy is to be commended for demonstrating that it has met high standards, is making progress on key indicators that impact student learning."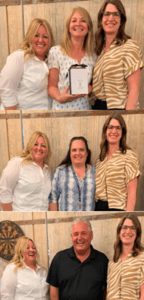 Teacher Appreciation   
At our Teacher Appreciation Evening, we recently recognized these outstanding teachers:
Carrie Strong: 8th grade science teacher, junior high student study team lead, and leader of the JH Arizona history tour
Kerri Walker: SpEd teacher, supervisor of O & L classes, and other special services organizer
Fred Martinez: Athletic Director, HS PE & weight training teacher, and van coordinator
We appreciate these teachers and the other outstanding staff at the Heritage Mesa campus!
Tuition Assistance, Tri-University, Information for all 8th graders
Tuition Assistance (TA) for Dual Enrollment for the upcoming 2022-23 school year is now open.  If interested in receiving up to 12 credits of tuition free college credits through Dual Enrollment, please complete by May 31st.
2022 SUMMER SCHOOL CREDIT RECOVERY COURSES
Registration Deadline: May 12, 2022 Students must consult with the assistant principal for academic course choices before paying for courses.
Heritage Academy Mesa Summer School is open to our current high school scholars. Courses will be self-paced and will utilize Heritage Academy Mesa's online learning program through Edgenuity. A teacher will be with the scholars as they work through their course requirements. Classes are filled on a first-come, first-served basis (priority will be given to seniors). High school scholars will receive a ½ credit for the successful completion (score 70% or higher) of each session.
40% OFF UNIFORMS FROM LAND'S END!
As a thank you for your support, Lands' End is offering 40% off uniforms for the week of:
April 14-27, 2002  CODE: learn  PIN: 2731
Mrs. Skouson and her Drivers' Ed class test their cars!

APPLY NOW FOR THE 2022-2023 MAYOR'S YOUTH COMMITTE
"Annie Price and Arden Good were very involved and represented Heritage Academy commendably this past year.  I am continually impressed with the caliber of students selected to participate in the Mayor's Youth Committee. Each year, they teach me something new and offer a fresh perspective on some of our most pressing issues." Mayor Giles
Are you interested in local government? Want to get to know the Mayor and your City Councilmembers? Would you like to meet teens from other Mesa schools? Then consider joining the Mayor's Youth Committee, an elect group of juniors and seniors from across Mesa who meet 1-2 times a month to learn the ins and outs of city government. In addition to making great new friends and learning about your community, completion of the program provides the opportunity to request a letter of recommendation from Mayor John Giles to bolster your college or scholarship.
The deadline to apply is May 13, 2022.
Applications must be typed and professionally presented.
APPLY NOW FOR THE 2022-2023 GOVERNOR'S YOUTH COMMISSION
This is a unique opportunity to serve as an ambassador in a nationally recognized leadership program! Applicants must be a sophomore, junior, or senior student during the 2022-2023 school year.
Governor's Youth Commission (GYC) brings together a diverse group of high school students from all fifteen Arizona counties to identify and address the greatest challenges facing Arizona's youth by developing innovative community impact projects, establishing partnerships with young leaders across the state, and advising the Governor.
Applications are currently being accepted until June 3, 2022 at 5:00 PM.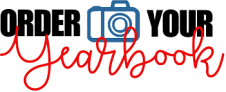 WHILE SUPPLIES LAST!
Only $55
We have a limited number of yearbooks for sale.  Purchase one before they are all gone!
You don't want to miss out!
HELP BUILD A LIBRARY!
Give the gift of reading!
Our newest campus needs help in building a library for its' young scholars. What was the one book that made an impact on you?
We have a box in the lobby for new or gently used books. Items for all grade levels are needed.
Thank you!
Do you shop at Amazon? 
A percentage of every purchase could be going toward our school if you check out during your transaction at Smile.Amazon.com  instead of the normal amazon site. Do good while shopping and check out with Smile.Amazon.com every time you shop!
Schedule an appointment to meet with Mr. Brown, College Relations Manager Click HERE !