Heritage Academy's mission statement:
We are dedicated to youth, their growth and development, and believe in building sound character through strong families, strong communities, and a strong nation.
While teaching the academic disciplines, Heritage Academy is dedicated to instilling into the minds and hearts of our youth knowledge of and respect for the ideals and values of the great men and women of history, including those who founded the American nation.
As they gain an appreciation of these people of accomplishment, they will be ready to provide the selfless service to their fellow citizens and to their country which will be required in the coming years to assist in restoring America's greatness.
Heritage Academy exists to this end.
Important Dates to Remember
02/23 Krazy Air Event 6:00 pm – 8:00 pm 4310 E McDowell Rd, Mesa 85215

02/24 Making of America seminar 8:30 am – 4:30 pm Heritage Academy Gateway, 19705 E Germann Rd, Queen Creek, AZ 85142, USA

02/24 Dance Company "World of Dance" 

02/28 Last day to purchase yearbook before price increases

03/03 Hon Drama Spring Showcase  7:00 pm – 9:00 pm

03/04 Little Mermaid Jr Run 10:00 am – 12:00 pm

03/04 Hon Drama Spring Showcase  7:00 pm – 9:00 pm

03/07 8th grade DE evening 6:00 pm – 7:00 pm

03/07 Choir Concert 6:30 pm – 8:30 pm First United Methodist Church of Mesa, 15 E 1st Ave 85210
A NOTE FROM Mrs. Udall:
It is hard to believe that February has come and gone!
We are proud of all of our scholars and this week we would like to showcase a few who have represented Heritage in major competitions.
Our music program had a great time at the Regionals/Jazz Mad festival in Flagstaff.  Our sports programs celebrated successful basketball, flag football seasons and honored the seniors last week. Be sure to check out the pictures of our senior sports night as well as our very talented musical scholars!
We are preparing to administer the state tests as well as ACT and Pre-ACT in April.  More information in the coming weeks.
PTO is sponsoring a fun activity tonight at KRAZY AIR and I hope you and your family can come and have some fun! (checkout the flyer further down in the newsletter)
I hope you have a wonderful weekend!
Heidi Udall, Principal
KRAZY AIR EVENT TONIGHT FEB. 23!
Join Heritage scholars & families TONIGHT at Krazy Air at 4310 E McDowell Rd from 6-8pm. $15 per jumper (includes socks!) Bring your family! See attached flyer for more info!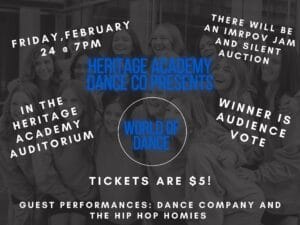 WORLD OF DANCE EVENT FRIDAY FEB 24!
There are 12 amazing competition entries. The competition kicks off with a super fun Improv JAM. The "Scholars That Dance" are our MC's. We have guest performances from two amazing groups; our one and only Dance Company as well as the Hip Hop Homies, and there will be delicious baked goods available in our silent auction.
Winner is audience vote.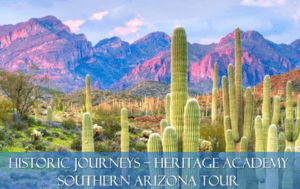 Junior High Southern Arizona Tour April 26 & 27, 2022
Exploring: Tombstone, Queen Mine, Bisbee(including ghost tour), Pima Air & Space Museum, and the Sonoran Desert Museum
Includes: transportation, hotel for 1 night, 2 breakfasts, 2 lunches, and 2 dinners, and admissions to venues
 Payment schedule: $370/person
Balance of Tour fee due March 1st, 2023
All payments must be via MySchoolBucks. Do NOT pay invoice directly with ECA funds.
Refund Policy (either tour company or student cancels) Refund minus $100 between Dec. 16th & Mar. 23rd No refund after March 24, 2023
NAU JAZZ AND MADRIGAL FESTIVAL! 
So much has been happening in the Choral Music Program! First, our Chamber Singers, an elite choir of 14 scholars, participated in the NAU Jazz and Madrigal Festival where they brought home not one, but TWO Superior Ratings!
The following weekend, 10 of our choir scholars participated in the Regional Music Festival in Phoenix where they sang with a 100-voice choir. In order to participate, scholars must have completed a rigorous  audition where they sang a solo and performed a series of sight reading exercises. Congratulations to these amazing singers! They are: Jessica Vogler, Katie Eldredge, Regan Good, Noel Driggs, Taliana Wilson, Joseph Hall, Michael Olsen, Matthew Rajewski, Jaydon Durfee and Elise Olsen.
Boys Basketball Senior Night
Boys Basketball Senior Night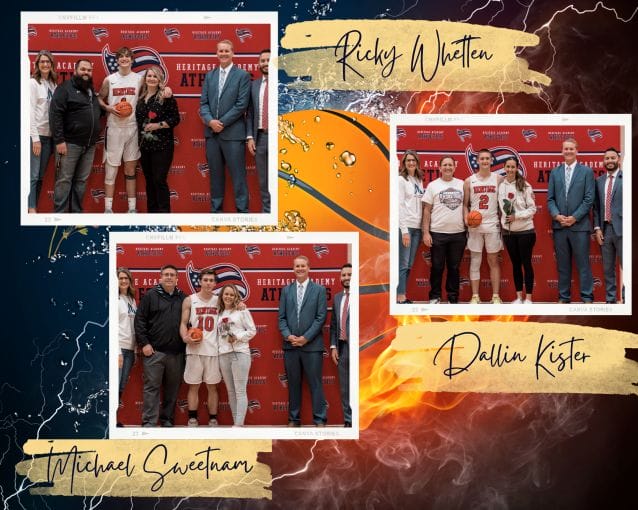 Boys Basketball Senior Night
Girls Basketball Senior Night
Girls Basketball Senior Night

STILL ACCEPTING APPLICATIONS FOR ALL GRADES 
NEW SCHOLARS –  If you have friends that do not currently attend Heritage but would like to join us next year…they will need to complete the enrollment application.  APPLY HERE
SIBLINGS OF CURRENT SCHOLARS: If you have a sibling who wants to attend Heritage next year, they must complete the application. While siblings do receive priority, a completed application MUST be submitted. 
It's Not To Late to Order your Caps & Gown!
Don't wait any longer! Be sure to order your Cap and Gown today!
Jostens' has created graduation packages for your upcoming celebration!
Questions: Perry Spindler perry.spindler@jostens.com  or  Matthew Hatten matt.hatten@jostens.com
Please contact Jostens' directly with any questions. They will have all the answers and will  ensure your order is exactly what you (and your family) want.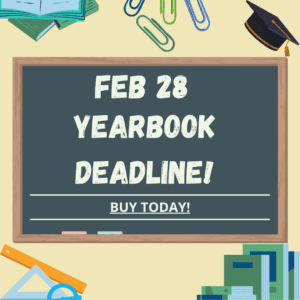 FEB 28 LAST DAY TO BUY A YEARBOOK:
Don't get left out! Buy one now!
Buy the 2022/23 Yearbook HERE on sale for $55!
Also available: BUY BUSINESS AD HERE
Questions: Mrs. Melchin kmelchin@heritageacademyaz.com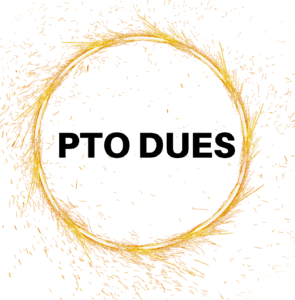 Why PTO Dues?
If you haven't yet paid, please consider doing so now:
School administration diligently strives to keep costs down and does not randomly pass expenses on to families.  Your suggested dues of $20 per family helps fund new technology for our scholars, subsidize low cost lunch options, and provide treats and prizes for various school functions such as Constitution week.
Our PTO has no major fundraisers that we will ask parents or teachers to support. We count on your suggested annual dues. 
We want you to know that all parents are invited to attend our board meetings. Check out more about PTO HERE
COLLEGE CORNER 
Seniors – don't forget to schedule your senior 1-on-1 meeting with Mr. Brown. 
You can scan the QR code outside Mr. Brown's office or click here.

FAFSA INFORMATION!
12th grade is the time to apply for admission to college and to apply for federal student aid by filling out the Free Application for Federal Student Aid (FAFSA®) form. Opens Oct. 1.  Check out goingmerry.com for a more user-friendly application, plus, there are thousands of scholarship opportunities.  Just complete your profile.
Complete the FAFSA form even if you believe your child won't qualify for any free federal aid. Many colleges will require FAFSA if you are getting any aid directly from the school. In addition, your family circumstances may change due to divorce, death or medical issues and you can appeal to the school due to the change in circumstance.